A 90-year-old woman in Tulsa, Oklahoma, was rescued by four young heroes after a fire consumed her bedroom and she was unable to escape on her own.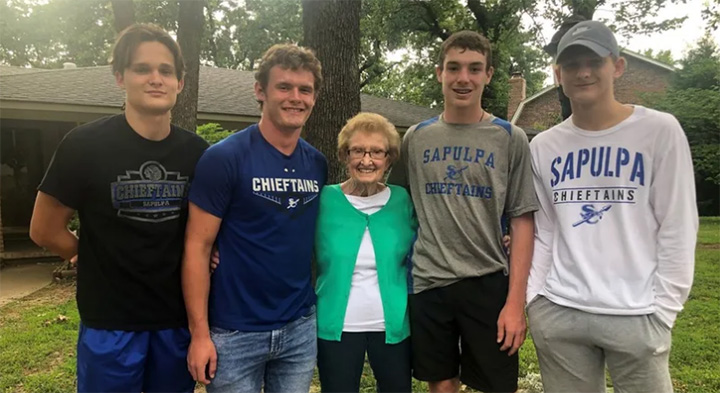 Catherine Ritchie said she was in the bathroom getting ready for bed when she turned around and saw her bed on fire. She attempted to put out the fire but quickly gave up, called 911 and hit her emergency call button.
"The smoke was so bad, I couldn't see to get out of my room," she said.
That's where her heroes come in.
Four boys between the ages of 14 and 17 were in a nearby home when they noticed the smell.
"It smelled kind of like burning rubber," 16-year-old Dylan Wick told the KTUL. "Then we heard the house alarm go off."
Nick Byrd, 14, managed to get through the back door and ran inside, finding Ritchie in the hall, lost in the smoke.
"This young boy was right there," she said. "He picked me up, and I said, 'I can walk', and he said, 'We're getting out of here'."
Ritchie made it out safe. So did the boys, and firefighters stopped the flames before they spread.
Ritchie's daughter, Missy Ritchie Nicholas, wrote an open letter thanking the four boys.
"Kids who are told about all the things they aren't old enough to do saved the life of the most precious and beloved woman we know," Nicholas wrote on her blog Sunset and Snowflakes. "Courageous young men. Young men who risked their own lives, their own safety, perhaps their good standing with their parents who might have chosen for them to do otherwise, and they carried my mother out of her burning home into the street, where firetrucks and ambulances would soon arrive."
"Thank you for not allowing this to be the tragic end to our mother's amazing life. Thank you for staying with her, hugging her, and helping her feel less alone until we could get to her. Thank you for being the kind of young men who thought about another person above yourselves."
Read More: Hero Teens-SunnySkyz